Its been nearly 11 years since I started this food blog and here I am publishing Jamie Oliver's fantastic fish pie recipe again. Good things should be shared thrice right? It first went up 2 months after I started this website and over the years has remained one of the biggest posts for me. It's also one of my all-time favourite comfort food recipes and the best fish pie I know.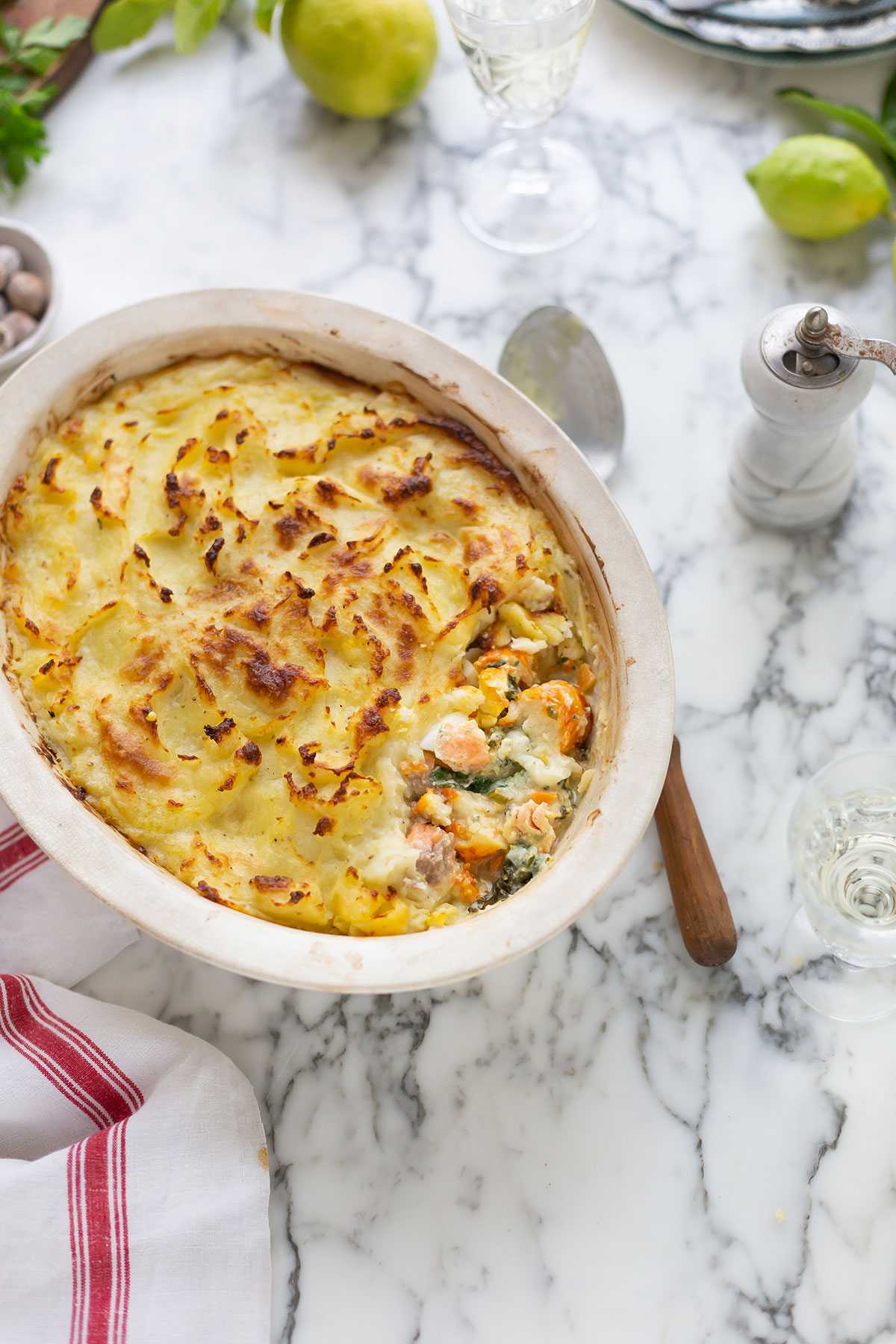 The suggestion to eat this fish pie with baked beans in tomato sauce is an absolute must. Trust me when I say its delicious. I also like to serve it with steamed green beans that I have tossed with lemon juice, olive oil and some chopped red onion.
So defying all sensible SEO principles I hold (and actually this is secretly a little SEO experiment), here is the recipe again.
*Cooks Notes – In this rendition, I used 2/3 salmon and 1/3 smoked haddock, and I also used about 200gms more fish than the recipe. It's easy to adapt to your own taste preference.
Print
Jamie Oivers fantastic fish pie
Jamie Oliver's famous fantastic fish pie recipe.
5 large potatoes peeled and diced (about 3 cm)
Salt and pepper
2 free-range eggs (leave out if you don't like)
2 handfuls spinach (I used 1 x 200gms packet of baby spinach)
1 onion finely chopped
1 carrot chopped/diced (small) – or grated
1 – 2 celery stalks, finely diced
extra virgin olive oil fro frying
250ml cream
2 good handfuls grated Mature Cheddar cheese or Parmesan (or half and half)
juice of 1 lemon
1 heaped tsp Dijon mustard (or English mustard)
1 large handful flat-leafed parsley, finely chopped
500gm- 650gms smoked haddock cut into biggish chunks. You could use any firm white fish – cod, hake, kingklip or salmon. Or a mix of salmon and whitefish.
As much butter as you dare to add to your mash
Nutmeg (optional) – a light grating in the mash
Salt and pepper (I like white pepper in this dish)
Instructions
Preheat oven to 220 degrees C / 425F.
Chop all the things, juice the lemon and get everything ready to cook.
Boil the potatoes in salted water for a couple of minutes.
Add the 2 eggs and set a timer for 8 minutes. Remove when ready and plunge into cold water to cool. Peel and cut into quarters setting aside.
In a separate pan fry, the onion, carrot and celery for about 5 minutes in the olive oil then add the cream and bring to the boil. add the spinach meaves and dijon and stir to wilt.
Place the fish into an appropriately sized oven dis and add the chopped parsely, lemon juice and grated cheese. Pour over the vegetable and cream and mix together. Arrange the quartered eggs evenly across the mix pressing them in.
When potatoes are cooked, drain in the colander and mash with lashings of butter and season with salt, pepper and grated nutmeg. Spread over the top of the fish mixture.
You could drizzle a bit more oil or melted butter over the top to get a browner finish or sprinkle over more cheese if you really wanted to be decadent and get some more crunch
Bake for about 25 – 30 mins – until golden.
Serve with heated baked beans in tomato sauce and blanched green beens (or other green vegetables / salad of your choice)
Keywords: Fish pie, Jamie Oliver, fantastic fish pie, best ever fish pie
You might also like:
Baked whole trout with herbs and lemon
Mussles with white wine galic and cream
Creamy salmon pasta with spinach, capers & lemon
Trout en Papillote with fennel
Prawn pasta with tomato, garlic & cream
Find me on Instagram