My top 12 recipes for 2020
2020 goes down as one of the most challenging years of all time and it will never be forgotten. It felt like a whirlwind of insecurity and facing the unknown. I bunkered down and did the therapy that seemingly everyone else around the world did too, I cooked and baked up a storm. It was another delicious year and I sadly gained far too much weight but I'm so grateful that I can still do what I love doing the most. As has become a tradition here, I always share my favourite recipes for the past year. These are the ones I will make again and again and are the ones that I keep thinking about. It was going to be my top 10 but then it had to be 12. Enjoy!
If you want to check out my best recipes for previous years – all of which are still my favourite and delicious: 2019, 2018, 2017, 2016, 2015 and 2014.
MY TOP 12 RECIPES FOR 2020
I'll start with savoury and then head over to a LOT of sweet recipes.
One-pot chicken and rice pilaf with oranges & spices
I've become somewhat besotted with chicken and rice and this hearty, comforting dish is loaded with flavour. I managed to perfect the technique of doing it all in one pot so that all the flavour is thoroughly embedded here.
Creamy chicken with braised leeks and carrots
This is a delicious crowd-pleasing chicken and rice dinner with a touch of indulgence with the cream. I have made it twice this year and cant wait to make it again.
I made a LOT of soups this year. It was a freezing winter, peak Covid and they are economical and comforting to the max. My favourite was my French Onion soup and it is now my go-to. It makes a big portion for 2 people and is one of the best things you can do when its cold outside. Gruyere laden grilled cheese sourdough adorns this hearty dish and it's worth the extra expense for the best ingredients here.
Creamy pasta with artichokes, spinach & capers
The artichokes and capers seal the deal here for me making this my favourite pasta dish of the year.
Black pizza with chipotle BBQ chicken, mushrooms and onion
I love this Neopolitan-style pizza base with charcoal for dramatic effect and love this combination of toppings.
This was such a popular post and my biggest Instagram recipe for 2020.
Spinach salad with grilled zucchini, peas, feta and mint
This was my favourite salad of the year and its so versatile. The perfect one to make for a braai / BBQ. It goes with almost anything.
I ate more cherries this year than ever in my life before and thanks to the amazing Sweet Cherry Time. This cherry galette is the most delicious and easy to make.
Nectarine, blueberry & bourbon pie
While we are on fruit pies, this recipe form Di Bibby is sublime and an absolute crowd-pleasing winner. I can't wait to make it this summer again.
This chocolate cake was a highlight of the year because KitchenAid gave me a mixer to give away to one of my lucky readers during the initial stage of lockdown. I'm so grateful to them and to the comfort and joy this cake brought.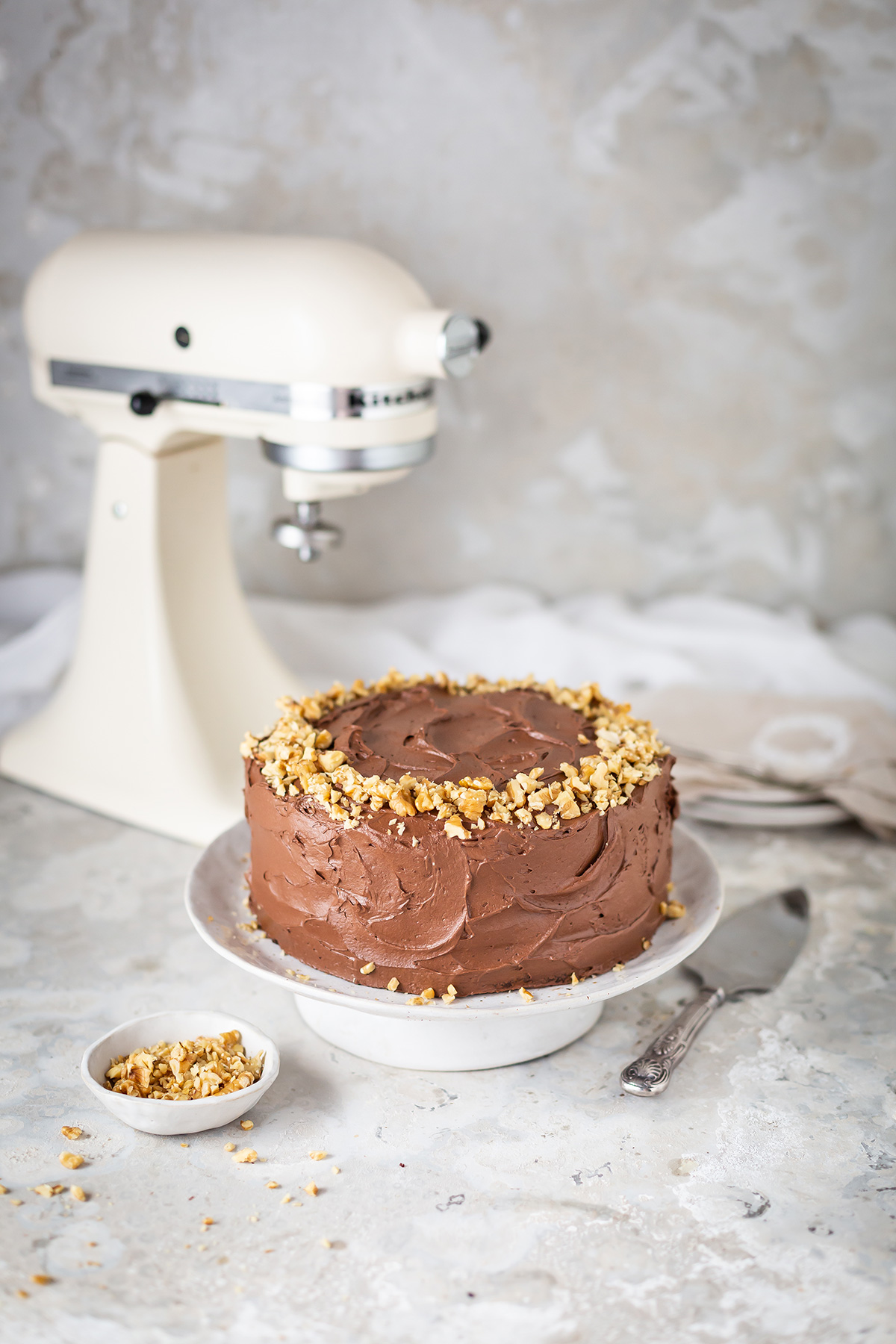 This is a very famous recipe which I only discovered on my birthday last year and made it for the first time in June. It showed me that good things are really worth sharing even if they have been done by many other people before. I think more people made this recipe and shared it this year than any of my others.
Sticky toffee fig & walnut pudding with sticky toffee sauce
This is my favourite version of a sticky toffee pudding and you should stash it away in your repertoire
for when you need to supply dessert to a crowd.
My best recipes for:
2019, 2018, 2017, 2016, 2015 and 2014
Please tag me @Drizzleanddip on social media if you ever make my recipes. I love to see your creations.
I wish you a very happy new year and let's hope 2021 will be a better year for all of us and we can get back to 'normal'. I cant wait to share more deliciousness with you.
Find me on Instagram